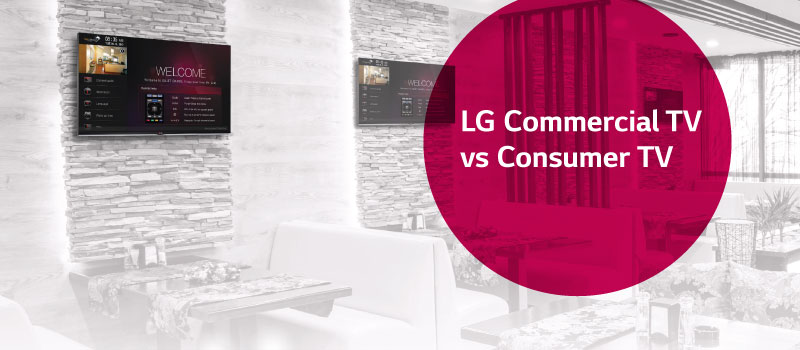 In the same way a pro photographer uses a purpose-built camera, or a construction worker will use commercial grade tools, your business demands a purpose built commercial grade at panel television. Commercial grade televisions are built to withstand constant use and withstand harsh public environments. Whether you own a sports bar, restaurant or even an airport, you expect that your panels will provide entertainment and information in an always-on environment with no down time. LG uses commercial grade components which are designed to expand the life of your at panel. Key considerations such as heat, dust and humidity all play a role in the build quality of an LG commercial grade panel. Not only is the construction of a commercial grade panel superior to your panel at home, the "back-end" infrastructure allows you to post content that is important to you with ease. You may be tempted to pick up an inexpensive consumer panel for your business, but like all reputable businesses there is a reason the pros use pro gear. Your TV should be no exception.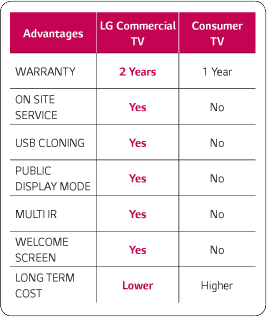 Optimized Features for Commercial Use
DURABILITY
LG Commercial TVs are manufactured with commercial grade components to extend the product lifespan over the conventional consumer TV.
PUBLIC DISPLAY MODE
From channel selection to energy-saving features, Public Display Mode allows you to control the TV settings in your business area, to prevent misuse by customers.
WELCOME SCREEN
Welcome guests with a warm greeting message that includes your business name and logo.
USB CLONING
The USB Cloning feature allows you to simply copy the TV settings onto all TVs using a USB stick.
MULTI IR
Multi IR function eliminates the remote control signal interference between TVs in multiple dwelling rooms.
Find out more information here on the feature rich, reliable LG Hotel TV Solutions